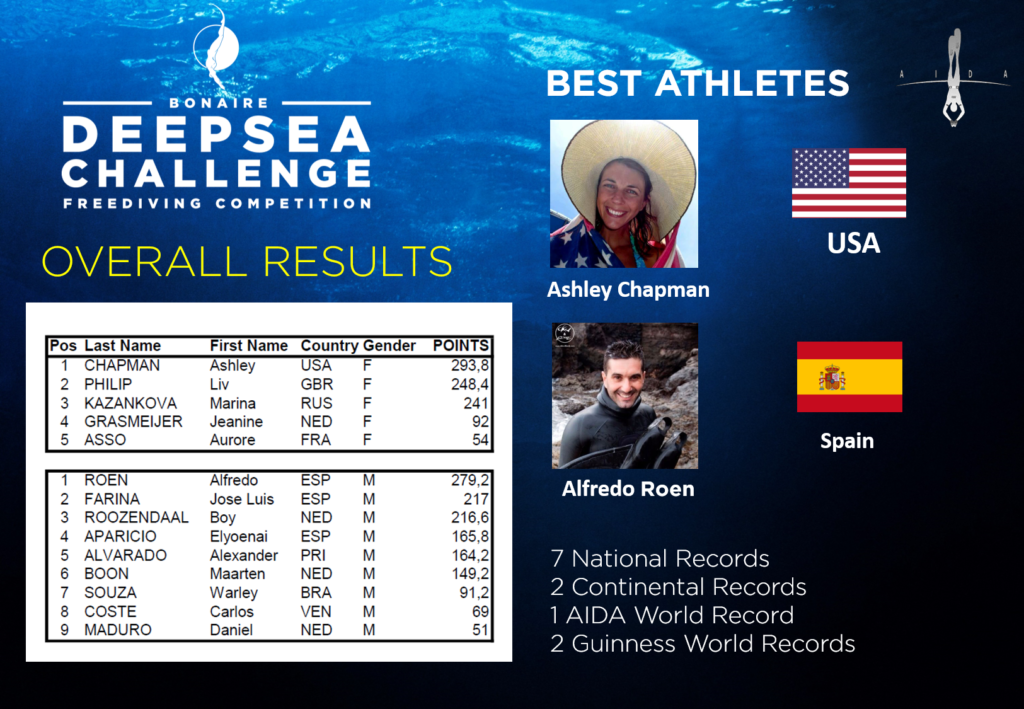 WINNERS OVERALL
ASHLEY CHAPMAN (USA) & ALFREDO ROEN (SPA)
More complete athletes in the fourth disciplines.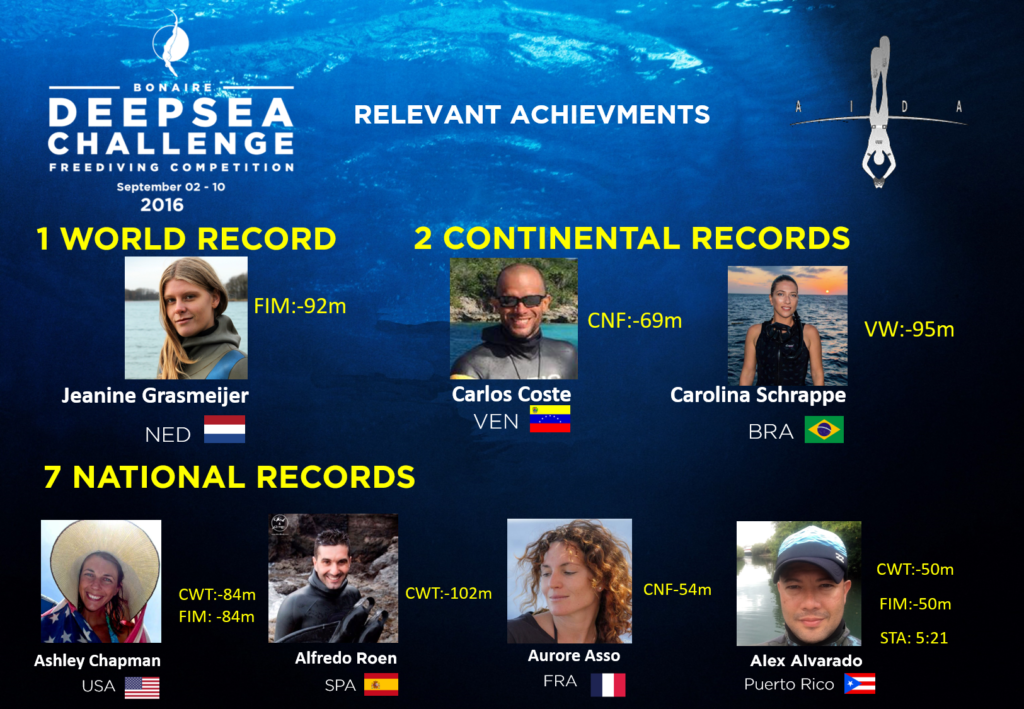 RELEVANT AIDA RECORDS
THE DUTCH JEANINE GRASMEIJER MADE A NEW WORLD RECORD IN FREE IMMERSION -92 METERS IN 3 MINUTES 46 SECONDS
Two Continental Records by:
The Venezuelan Carlos Coste set new South American Record -69meters in 3 minutes 33 seconds. (VIDEO: https://youtu.be/PPEfKZnKWOg )
The Brazilian Carolina Schrappe did a New South American Record in Variable Weight -95 meters in 2 min 23 sec
7 National Records by
Ashley Chapman (USA), 84 meters in two disciplines FIM and CWT,  Aurore Asso (FRA) 54 meters in CNF, Alfredo Roen (SPA) 102 meters in CWT,, Alex Alvarado (PRI) 50 meters in 2 disciplines CWT, FIM,  and 5min 21 sec in Static apnea..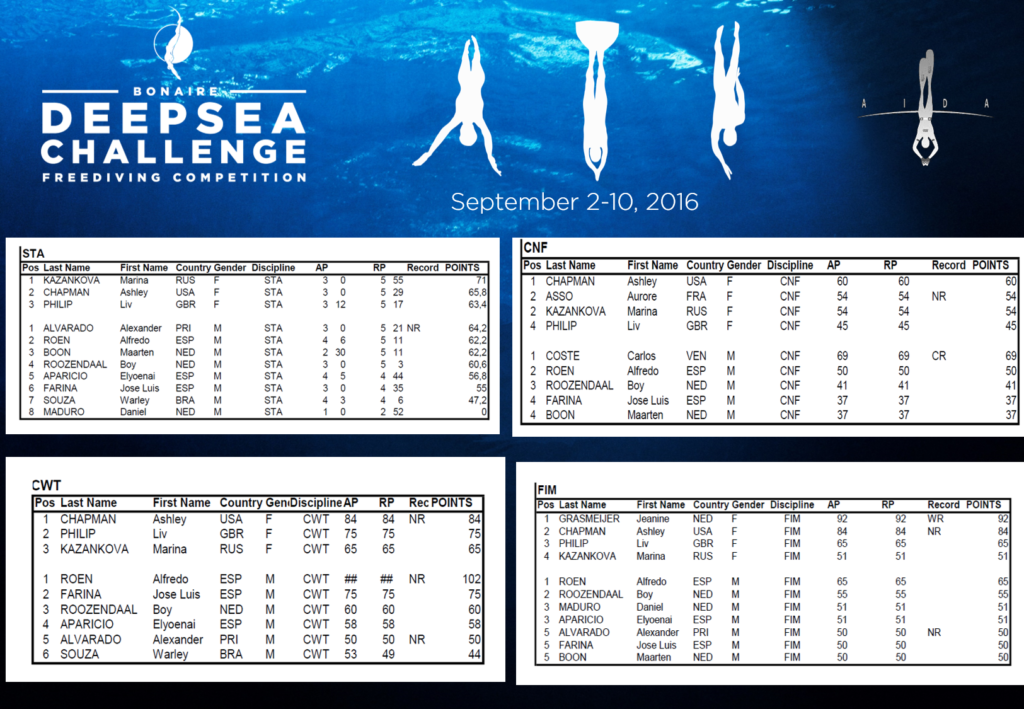 RESULTS BY DISCIPLINES
4 Disciplines Static STA, Constant Weight CWT, Constant No Fins CNF and Free Immersion. 6 Competition days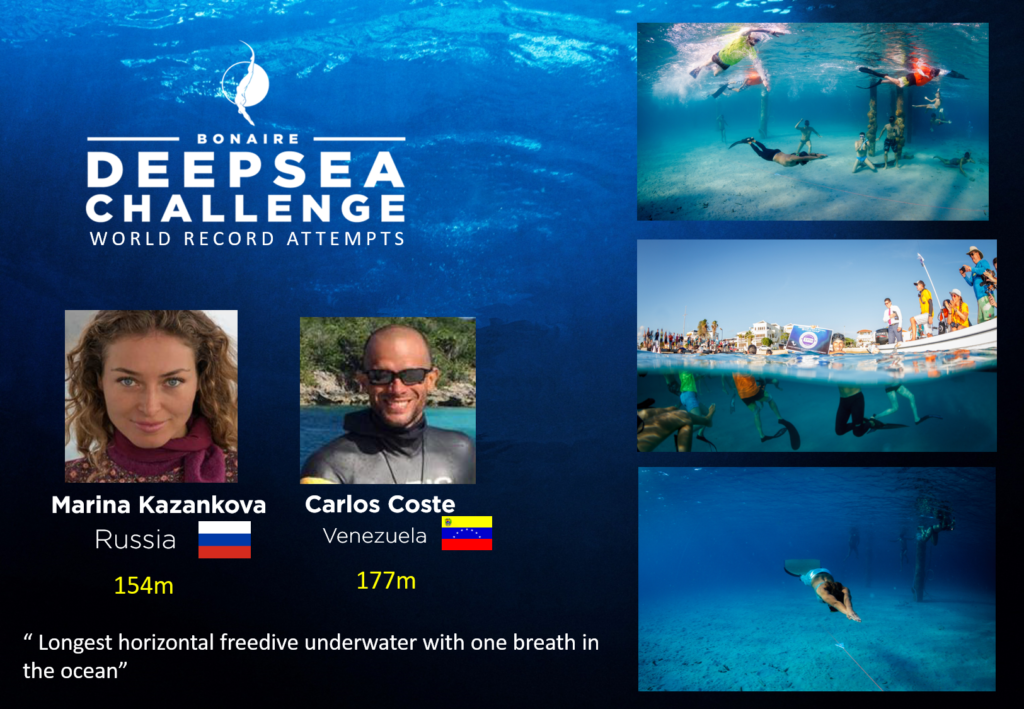 NEW WORLD RECORDS
BY CARLOS COSTE(MALE) 177 METERS AND MARINA KAZANKOVA (FEMALE) 154 METERS 
LONGEST DISTANCE FREEDIVE IN THE OCEAN WITH ONE BREATH
VIDEO 360o by Dave Faires and Tom Boyd: https://youtu.be/Bcyk-froEh4
Video Carlos Coste Guinness Record attempt by Gaby C
https://www.youtube.com/watch?v=VElaHuX1hBM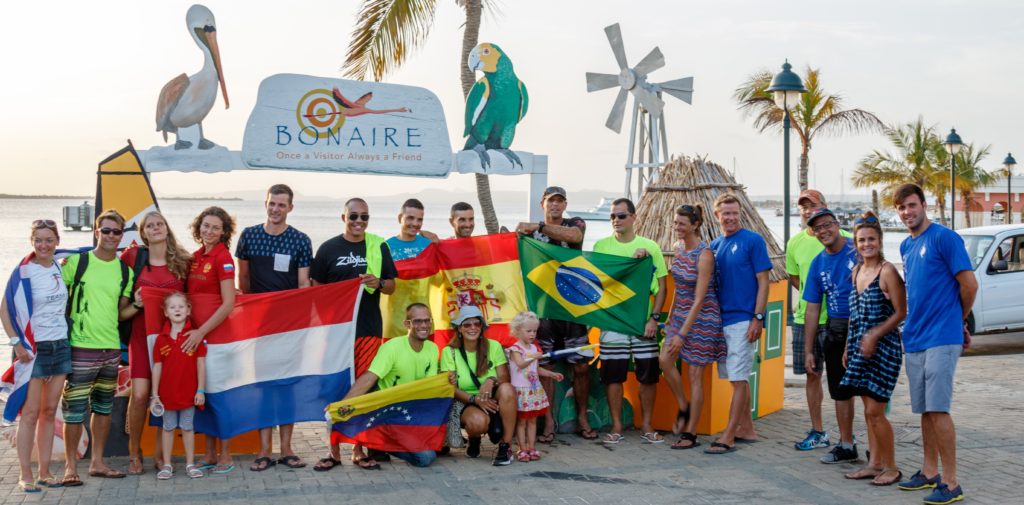 ATHLETES