We offer the whole range of PADI & AIDA  Freediving Courses and Workshops for Spearfishermen, Surfers, Photographers  and more
Personalized Training Sessions and Online Coaching for Athletes, Instructors and Spearos,  where Carlos Coste will be your Coach &  Advisor.
more dates and personalized options on demand
Save money and time on your flight schedule by following our best recommendations.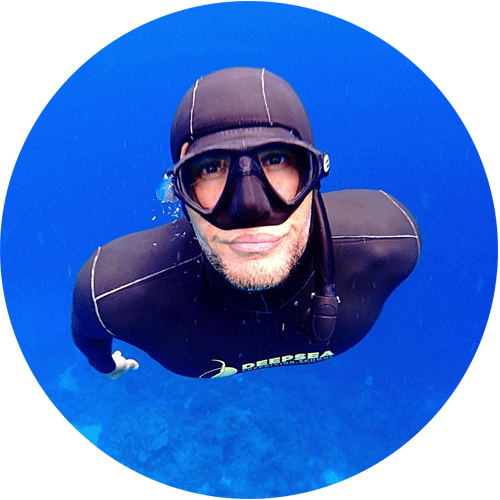 "I have dived, explored and competed all over the world and yet I believe Bonaire is the best place for freediving in the Americas and top 5 in the world. We have great accessible depth, warm and calm waters all year (far from Hurricane belt),  great accommodation options, healthy food options and downtime activities all on one amazing island! But the best unique advantaje is that ALL : depth, our school logistics, safety, food options, bed, international airport and fun is in 2km radio…. so easy " – Carlos Coste
Courses are usually booked in advance. For more information and to book your place please email: info@deepseabonaire.com
---
AWESOME FREEDIVING EXCURSION
February 24th – March4th 2018
Join 12x World Record Holder and Guinness Recordman Carlos Coste, 3x World Record Holder and current U.S. Champion Ashley Chapman, renowned safety diver and competition organizer Ren Chapman and photographer and AIDA instructor judge Gaby Coste for "Cenotes Adventure 2018: awesome freediving excursion".
The adventure begins and ends in the international hub of Cancun (CUN), Mexico. The action packed trip includes 7 days of underwater exploration through the Yucatan peninsula including visits to ancient Mayan ruins!
Includes: All meals, accomodation (8 nights: Yucatan & Quintana Roo), transportation (private van), 2 Cenote sessions by day, photo/video package
 Arrival / Departure dates (Cancun): Feb 24 – March 4th
'Bonaire is the perfect place to try free diving! There is nothing like the feeling of free-falling in free diving. This was the part that I found most amazing about my classes with Carlos. There comes a point when you can just let go and you simply fall….all the while you can hear the slow, steady sound of blood pulsing through your veins. It's as if you are flying and you can hear the wind in your ears.
So I would encourage anyone who is thinking about trying to free dive, to take these classes with Carlos. Seize the day! Carpe diem! YOLO (as the young kids say these days) and have your very own Superman moment..' – Trisha
'The whole family (with teenage daughters) went on a 2 hour workshop with Carlos and his instructor student Pamela, and we learnt lots and had a very good time. Starting with theory, breathing exercises, static apnea and then freediving techniques. We all learnt a lot of new things on freediving, that also is useful for improving our diving and snorkeling. All of us did more than we could imagine, but at the same time felt relaxed, not like we pressured ourselves. Carlos and Pamela were very calm, friendly and focused on us, and this was one of the highlights of our trip to Bonaire. Thank you! We really recommend this!' – Marit